Introducing Self-Directed Financial Planning
We're excited to introduce self-directed financial planning, a new way to access advice-only financial planning.
At PlanEasy our mission is to make advice-only financial planning easy, accessible, and inexpensive, and our new self-directed financial planning platform helps make that even more of a reality.
Self-directed planning uses our innovative financial planning platform to create a truly customized financial plan in just three simple steps.
The platform intelligently tailors to every individual, couple, and household to create a unique financial plan that is customized to your exact situation.
Unlike other financial planning options, our platform is completely unbiased, there are no products, no sales goal, just advice.
Our platform helps you optimize your financial plan for income tax, tax credits, and multiple governments benefits including the big ones like Guaranteed Income Supplement (GIS) and the Canada Child Benefit (CCB) as well as multiple smaller government benefits too.
Most importantly, a self-directed financial plan is just a fraction the cost of a typical one-on-one advice-only financial planning engagement, making it easier and less expensive to create an unbiased financial plan.
Interested? Get early access to self-directed financial planning, join the waitlist now.
Let's take a look at just a few of the ways a self-directed financial planning can help you make the most of your money…
Three Simple Steps
To build a financial plan we go through three simple steps. The platform guides you though…
Discovery
Foundation
Final Plan
In Discovery we want to learn about you, how you feel about money/finances, where you are today in terms of income, expense, assets, and debt, and what benefits you have like pensions, group-RRSPs, employee share purchase plans etc. etc.
In Foundation we take all those facts and start thinking about the future. We'll plan debt payoff, home purchase/sale, education funding, investment planning, future income and expenses, estimated CPP and OAS benefits, and tax and gov. benefit opportunities, and more.
In Final Plan we take the information in Discovery and Foundation and look forward 20, 40, 60, 80+ years into the future to see how your plan will unfold. Are you on track to reach your financial goals or are changes necessary? We'll plan pre-retirement contributions to accounts like RRSP, TFSA, and non-reg. We'll also create a post-retirement drawdown plan. We calculate income tax and government benefits year-by-year. We anticipate possible clawbacks on government benefits like OAS, CCB, GIS and more. Then we test your plan over dozens of historical periods of investment returns and inflation rates to ensure your plan is successful even in the worst historical situations. Lastly, we create a year-by-year roadmap for you to follow so that you know exactly what you need to do to achieve your goals.
What Is Included?
Our financial planning platform has been developed over years, and through hundreds of one-on-one financial planning engagements, and now it's available as a self-directed platform for you to build your own financial plan without the need to speak with a financial planner.
Self-directed planning includes…
Access to the most detailed financial planning platform available to Canadians
Dozens of short videos guiding you through each step of a self-directed plan
Hundreds of help articles and help resources
Access to a Community Forum to ask questions and connect with advice-only financial planners and other self-directed customers
Regular updates as tax rates, tax credits, government benefits etc. change in the future
Here are just a few examples of how you can use the platform to build a self-directed financial plan…
Example: Managing Income and Spending Today
Income and spending are important parts of a financial plan. We want to make sure we have a good understand of current income and expenses before we start planning the future.
To help understand income and spending today the platform will automatically "map" cash flow visually to help understand where your money is going. From gross income to deductions and net income, to spending categories, and then individual expenses, we want to understand where money is going.
The platform will automatically highlight issues or discrepancies in your cash flow, helping to highlight areas of opportunity or places that may require a bit of additional attention.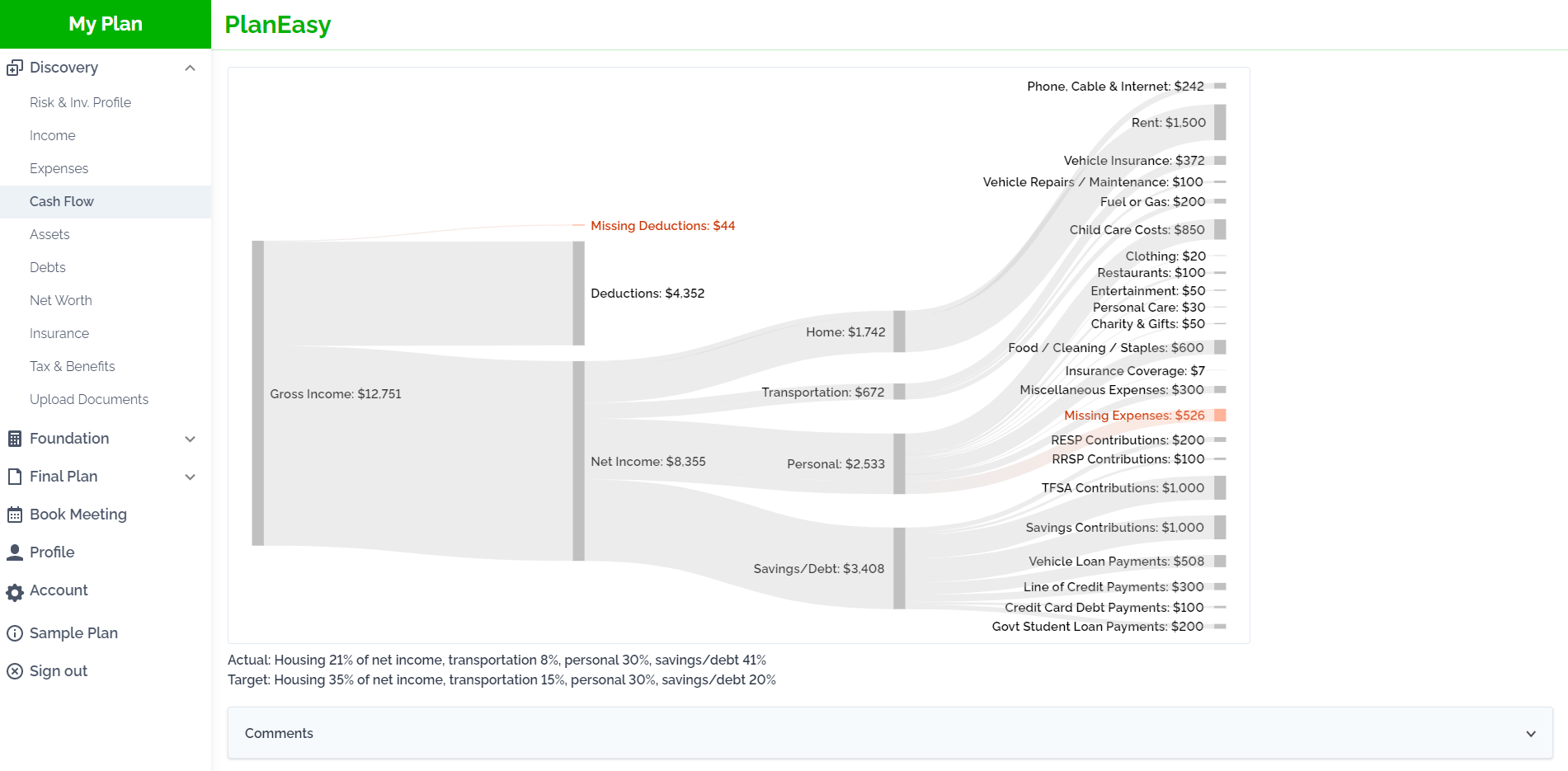 Example: Plan Income and Spending Into The Future
Not only do we want to understand income and spending today, but we also want to plan income and spending into the future.
First, we plan income and spending in "snapshots", these are broad phases of spending like current spending and then retirement spending. It's also possible to add additional "snapshots" to help plan more specific spending phases like early retirement then late retirement or renting then buying.
For new, young, and growing families we also want to understand changes in child related expenses. These can vary from year-to-year based on daycare, RESP contributions etc. etc. Use pre-populated national averages as a starting point or customize your child expenses based on your family's actual spending.
When it comes to income and spending, you may want to be more specific with changes in spending assumptions year-by-year, maybe for a parental leave or for part-time work after retirement. Income and spending assumptions are automatically populated from the snapshots but can be edited year-by-year to truly customize your financial plan.


Example: Income Taxes and Government Benefit Clawbacks
Income tax and government benefit clawbacks have a large impact on a financial plan. Making the right decisions around RRSPs vs TFSAs vs non-registered accounts can help save $10,000 to $100,000+ over the course of a plan. Taking advantage of income splitting can also help couples save thousands.
To help optimize income tax and government benefits we first create marginal effective tax rate charts for every year of the financial plan, this helps visualize why this type of planning is important. Then in the Final Plan the platform automatically calculates the expected amount of income tax and government benefits year-by-year and taxable income changes.
Of course, couples have a unique tax planning opportunity when creating a self-directed financial plan and that is income splitting. The platform will automatically take advantage of easy forms of income splitting and include them in your plan, maximizing TFSA contribution room, non-registered investing, even spousal-RRSPs etc.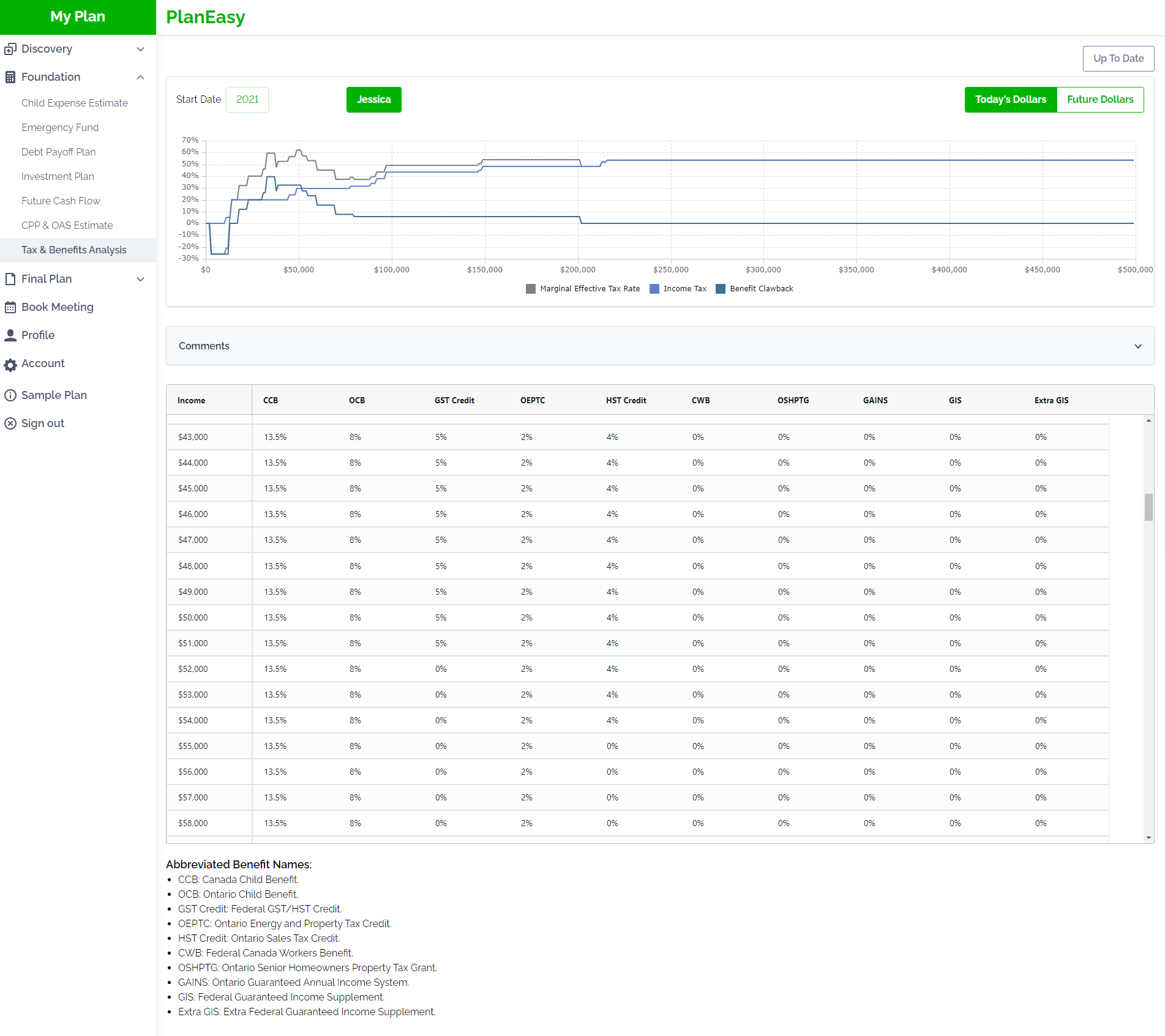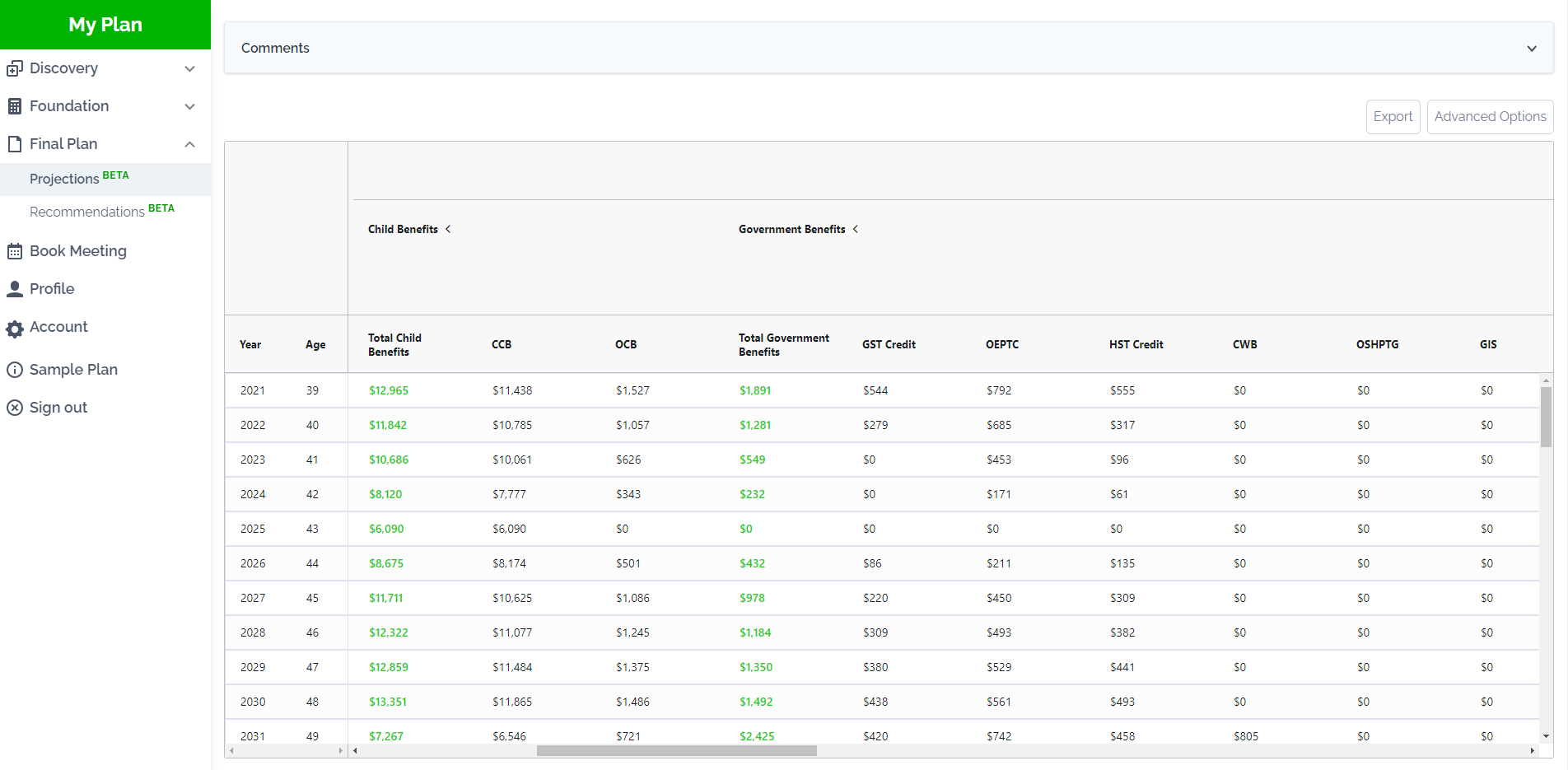 Example: Pay Debt Off Faster
Becoming debt free is an important goal and we want to help map out future debt payments to help you become debt free faster.
Paying off debt is an important goal, and a good debt payoff plan will be very motivating.
Choose between different debt payoff strategies like avalanche versus snowball. Choose the interest rate threshold where payments stop cascading onto the next debt, for example you may not want to make extra payments against a 2%-3% mortgage but you do want to make extra payments on a 4.99% vehicle loan or line of credit.
Add general lump-sum payments in certain months, maybe when a bonus is paid, and let the platform choose the best place to put that payment… or make specific lump-sum payments and see how quickly you can pay off a specific debt.
Best of all, with instant feedback you can quickly compare different debt payoff options for things like total interest paid and months to full payoff.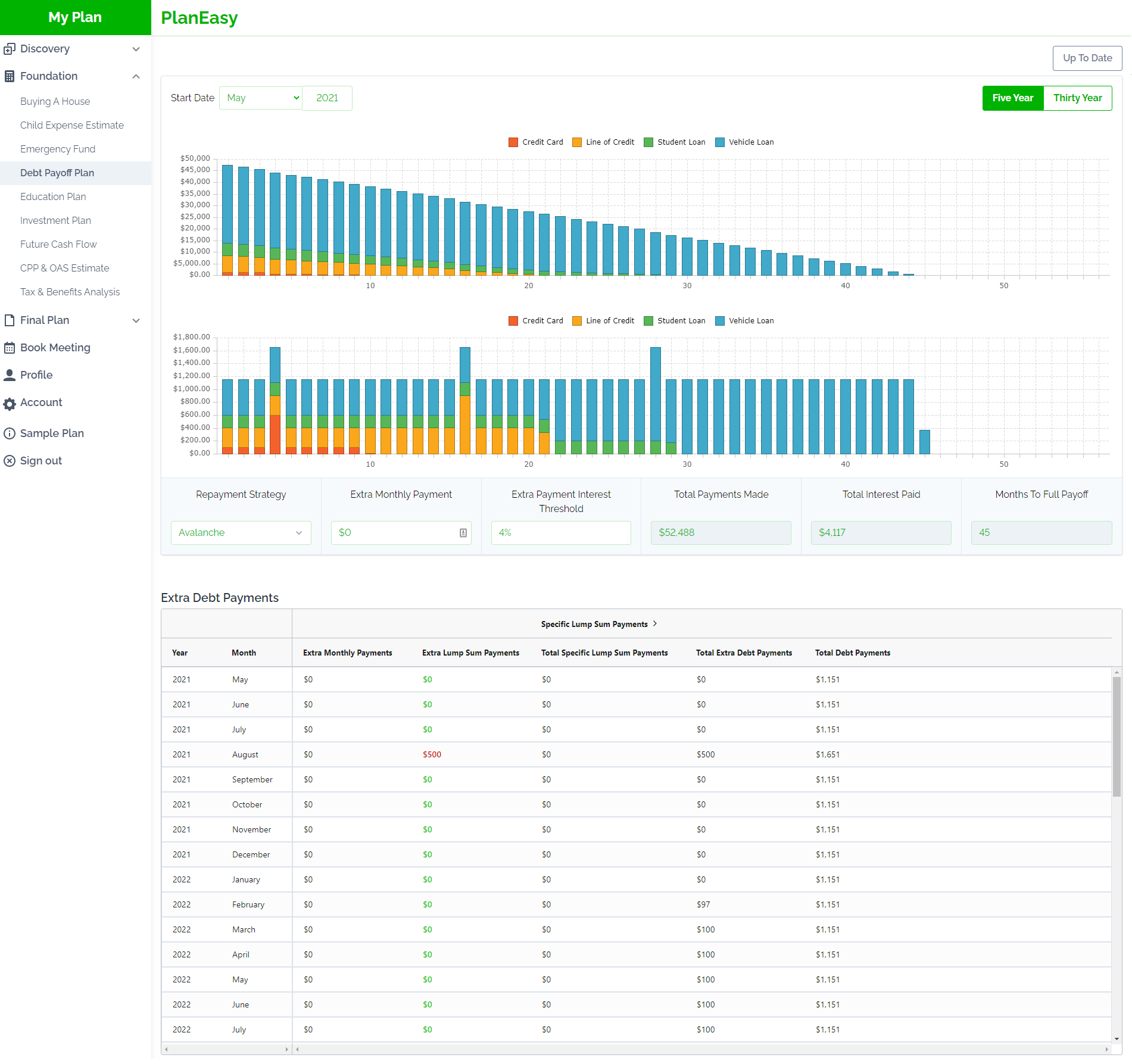 Example: See How Assets and Net Worth Grow (And How Your Hard Work Will Pay Off!)
Sometimes it's hard to save and invest on a regular basis. There are always competing priorities and it's easy to lose sight of an end goal that is 10, 20, 30+ years away. With the net worth chart it's motivating to see how all that hard work today will pay off in the future.
As assets grow, compound growth starts to take over, this accelerates net worth in the future. The net worth chart is a great way to visualize that growth.
The net worth chart shows you how your assets are expected to grow in the future as long as investment contributions and returns remain on track.
Seeing how large your portfolio will become is a great way to make sure month to month contributions remain on track.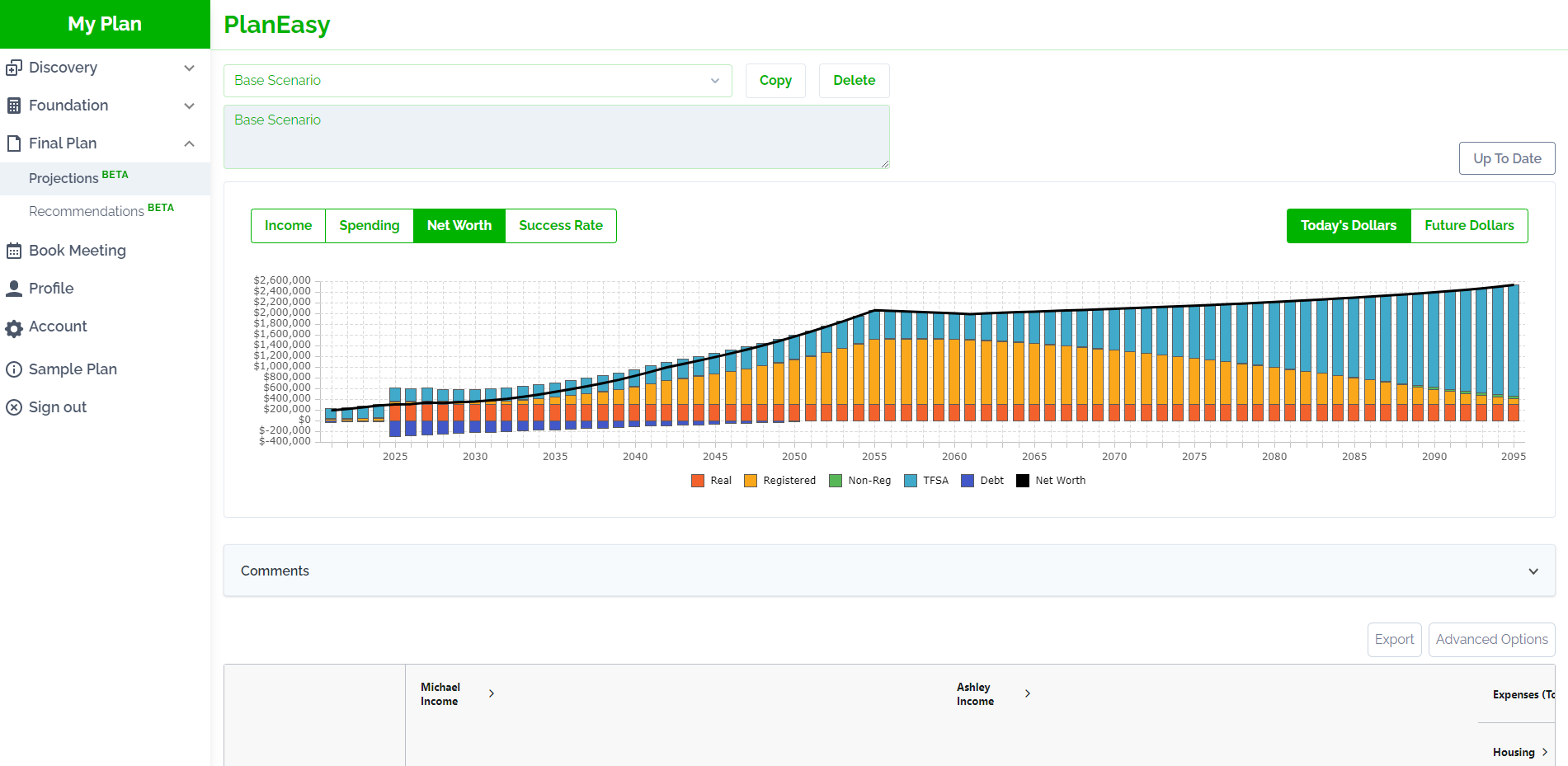 Example: Find Out If You're Successful In Retirement
No one can predict the future, but the success rate chart helps map out the different "paths" that your retirement plan could take in the future. Depending on investment returns, inflation rates, and annual withdrawals, your total retirement assets could take many different paths in the future.
To have a robust financial plan, we want to make sure that very few paths run out of money in the future.
The success rate chart helps you understand if your retirement spending can be supported in the future. We want you to feel confident about your retirement plan, so your annual withdrawals are tested over dozens of historical periods of stock returns, bond returns, and inflation rates.
No one can predict the future, but if your plan can survive the equivalent of the Great Depression, or high inflation of the 1970's, then we can be pretty confident about the future.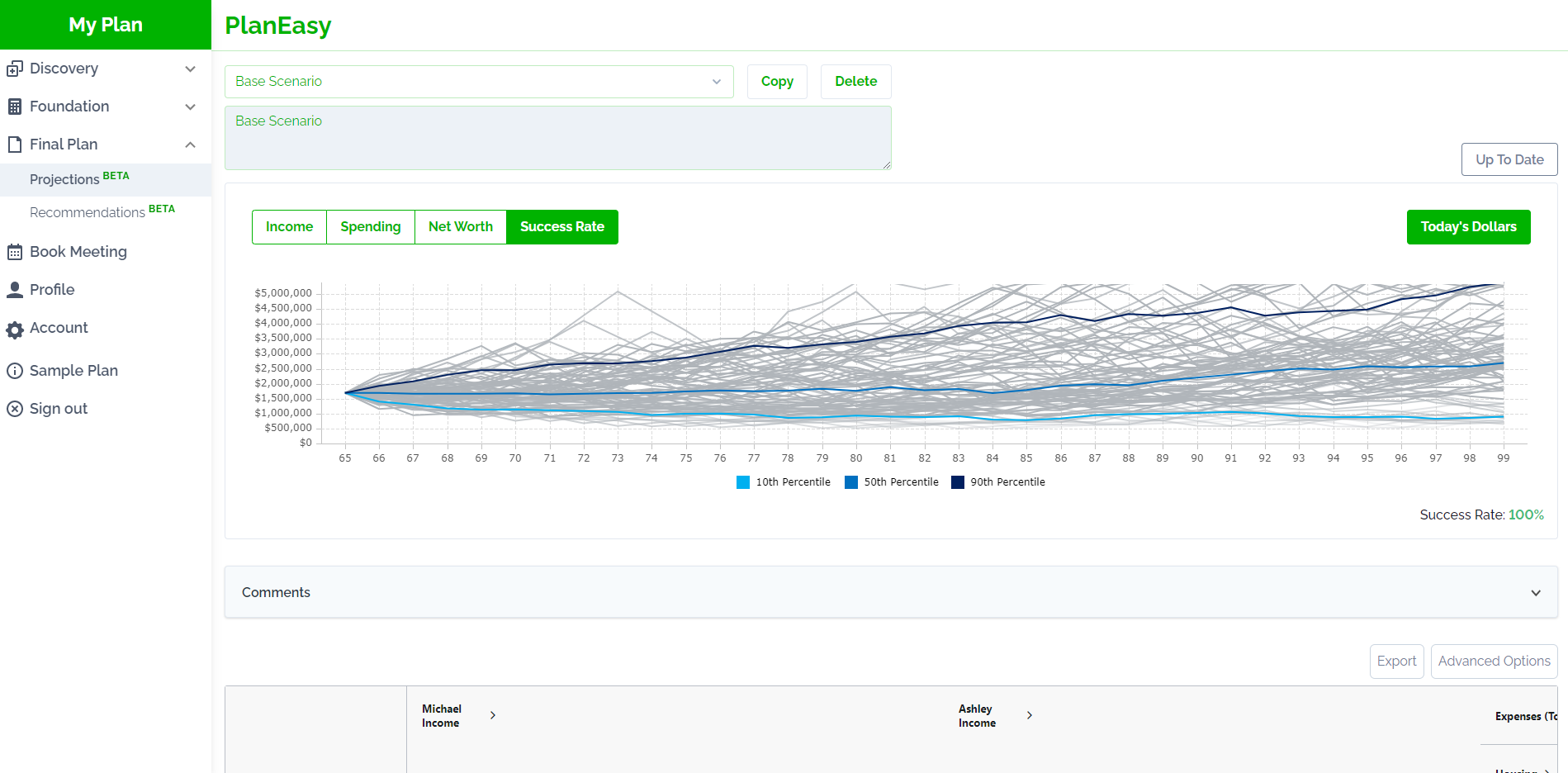 You're Not Alone! Get Help When You Need It
With a self-directed financial plan you're not alone. Self-directed customers have access to our community forum to ask questions and interact with advice-only financial planners and other self-directed customers.
Self-directed customers also have the option of upgrading to a 60-minute one-on-one session with an advice-only financial planner.
This 60-minute session is perfect if you don't need a full one-on-one engagement but still want to ask a few questions, get clarity on a specific part of your plan, or get some help fine tuning your assumptions when faced with a big decision. Self-directed customers can work on their own and then upgrade to a one-on-one session periodically as they experience major changes to their plan.
Get Early Access!
Let's start planning! Join the waitlist today to get early access to our self-directed financial planning platform.
Each month we're selecting a small group of customers to get early access. And with early access you'll get extra benefits like a 1-hour call with an advice-only financial planner worth over $250!
We'll also be sharing more information, case studies, and example of how you can create a self-directed financial plan in the near future.
Join the waitlist for self-directed financial planning and get early access!
Join over 250,000 people reading PlanEasy.ca each year. New blog posts weekly!
Tax planning, benefit optimization, budgeting, family planning, retirement planning and more...
Join over 250,000 people reading PlanEasy.ca each year. New blog posts weekly!
Tax planning, benefit optimization, budgeting, family planning, retirement planning and more...