Understanding RRSPs:
The 6 Benefits
(And 7 Drawbacks)
of RRSPs
RRSPs are one of the three major tax shelters available to Canadians. They were created in 1957 and since then RRSPs have been a key way to delay and avoid taxes. There are many benefits to an RRSP but also a few drawbacks.
In general Canadians aren't taking full advantage of this tax shelter. As of 2015 there was over $1 trillion of unused contribution room. That's an average of $41,560 per tax payer!
Each year the unused contribution room continues to grow. Over the last 5 years unused contribution room has grown by $1,900 per person per year.
This begs the question….
Why aren't we using the RRSP to its full advantage?
Out of all tax payers only 1 in 4 used an RRSP last year. While this might seem low it's important to note that RRSPs aren't for everyone. There are drawbacks to using an RRSP and it's because of these drawbacks that some people choose a different tax shelter instead, like a TFSA (although TFSAs have their own drawbacks too!)
Still, there is a huge potential for tax savings out there. Even at the lowest federal tax rate the potential tax rebate is about $150 million or roughly $6,000 per person. Who wouldn't like to get a $6,000 tax refund?!?
In this post we'll cover how RRSPs work. We'll also cover both the benefits and drawbacks of an RRSP.
How They Work
RRSPs are pretty simple. Contributions are made pre-tax and they grow tax free until withdrawal.
If a contribution is made with post-tax income then you'll get your tax back at the end of the year.
When you eventually withdraw money from your RRSP its considered ordinary income and will be taxed at your marginal tax rate (and not just your marginal income tax rate, but also government benefit clawback rate too, the combination can reach 50%+)
RRSP withdrawals can be made at any point in time and without penalty.
RRSP withdrawals will incur a withholding tax depending on the size of the withdrawals. This withholding tax is just a pre-payment of your annual taxes, its not a penalty.
RRSP accounts help you defer tax, you won't avoid tax all together, you just defer tax until retirement. This is why RRSPs are especially popular with high income individuals. They can defer tax until retirement when they're in a lower tax rate.
We see the % of people who contribute to an RRSP rise quickly with income. Contribution rates go from just 21.5% of people in the $40k-$50k income range to 77.7% in the $200k-$250k income range.
RRSP Contribution Rate by After-Tax Household Income
[weblator_chart id="22″]Source
The 6 Benefits of RRSPs
Certain Withdrawals Can Be Made Without Paying Tax:
RRSP contributions can be withdrawn without paying tax by using two programs. First time home buyers can use the Home Buyers Plan (HBP). And people returning to school can use the Life Long Learning Program (LLP). These programs have limits on withdrawals and require repayment over a period of 15 years. The benefit is that it allows people to make an RRSP contribution, get a tax refund, and then withdraw that money using the HBP and LLP without paying tax.
Withdrawals Can Be Made At Any Age:
One HUGE benefit of RRSPs is that they allow withdrawals before retirement. Retirement accounts from other countries, like the 401k in US, don't allow withdrawals before retirement age. Because RRSPs allow withdrawals at any age they work extremely well for early retirees.
Contributions Are A Tax Deduction:
RRSP contributions are considered a tax deduction and will lower your net income. This can increase your income tested government benefits. This is on top of your income tax rebate. For certain families this can add up to 30-40%! When these families make a $1,000 contribution to their RRSP they would see an increase in their income tested benefits by $300-$400 the following year.
Protected From Creditors:
A little-known benefit, RRSP savings are protected from creditors, this includes claims from lawsuits or bankruptcy. Just like a pension, your RRSP can't be used to cover liabilities from either a lawsuit or bankruptcy. This benefit isn't available for TFSAs or RESPs, both can be seized to cover personal liabilities.
Tax Free Compounding:
A MASSIVE benefit of RRSPs is that any investment made inside an RRSP will grow tax free. This lets your investment compound much faster without the drag of annual taxes. The drag from taxes can be significant. The average Canadian family would experience a 15% drag due to capital gains tax and a 30% drag due to the tax on interest payments. Over 40 years this can cut $300,000+ off of your retirement savings. This can be avoided by using an RRSP. For more details check out the graphs below to see how the investment balance grows between the different accounts.
Potential For A Lower Lifetime Tax Rate:
Along with tax free compounding, another MASSIVE benefit of an RRSP is that you can lower your average lifetime tax rate. Contributions can be made during high tax years and withdrawals can be made in low tax years. A Canadian family putting away $5,000 per year can reduce their lifetime tax bill by $477,002 by using RRSPs to invest for retirement. Compare the cumulative withdrawals between RRSP and Taxable accounts. The tax efficiency of an RRSP allows for an extra $477,002 in withdrawals!
RRSP
Annual $5,000 Pre-Tax Contribution
$983,045 Cumulative Withdrawals (After-Tax)
[weblator_chart id="23″]
Taxable
Annual $3,517 Post-Tax Contribution
$506,043 Cumulative Withdrawals (After-Tax)
[weblator_chart id="24″]
Blog post continues below...
Advice-Only Financial Planning
No products, just advice. Confirm you're on the right track. Plan accumulation and decumulation to reduce tax liability. Estimate "safe" vs "max" retirement spending. Calculate CPP, OAS, GIS, CCB etc. And much more!
Basic financial plan starting at just $450+tax. Includes a 1-hour strategy session with an advice-only financial planner.
You deserve financial peace of mind. Start planning now!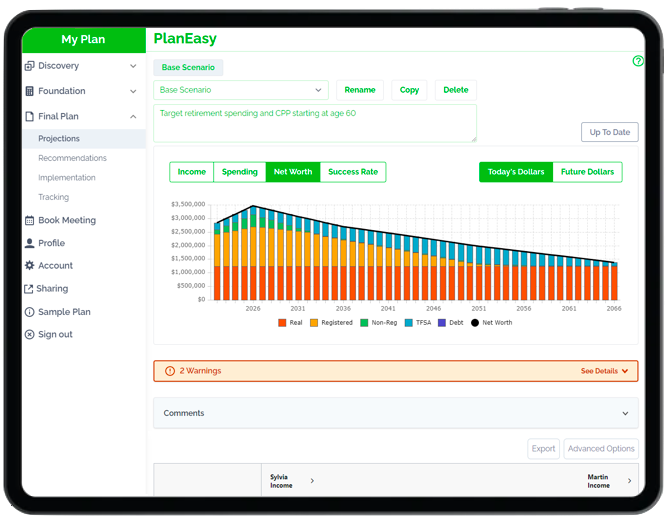 The 7 Drawbacks of RRSPs
Withdrawals Are Considered Ordinary Income:
RRSPs turn all kinds of income into ordinary income. Dividends from Canadian companies and capital gains receive special tax treatment outside of an RRSP but if they're held within an RRSP this won't happen. Any money earned in an RRSP is considered ordinary income when withdrawn. This ordinary income gets taxed at your marginal tax rate.
Withdrawals Will Impact Income Tested Benefits:
RRSP withdrawals can impact government benefits in retirement. This can lead to claw backs on OAS or GIS. Due to the high claw back rate on GIS (50%+) this is a BIG drawback for very low income families.
Contribution Room Is A Scarce Resource:
RRSP contribution room will never come back. Unlike a TFSA, if you make an RRSP withdrawal that contribution room is forever destroyed, you will not get it back the following year.
Contribution Room Is Based On Income:
RRSP contribution room is based on your gross income. In low income years you'll accrue less contribution room. TFSAs on the other hand always accrue the same amount of contribution room regardless of income.
Less Flexibility To Share Available Contribution Room:
Spouses cannot contribute to each other's RRSP. RRSP contributions can only be made using your own earned income. Making an RRSP contribution in your spouses name is a good way to get audited by the CRA and receive hefty fines/penalties. To get around this, it is possible for the high income earner to pay all the household bills/expenses which then frees up the spouses income to go towards RRSP contributions.
Mandatory Withdrawals At Age 72:
By the end of the year you turn 71 RRSPs must be converted to a RRIF which has prescribed withdrawal rates. These minimum withdrawals must be made regardless if you need the income or not. These withdrawal rates escalate each year until age 95 when they hit 20% of the balance. These mandatory withdrawals can create a tax burden that must be managed properly to avoid unnecessary taxes.
Tax Refunds Get Spent:
This is the BIGGEST drawback of RRSPs! If you spend your tax return rather than save it then watch out!
The most efficient way to use an RRSP is to make pre-tax contributions. If contributions are made with post-tax income then you get a tax refund when you file your taxes at the end of the year. This is a huge risk for many people who spend their tax return each year.
You pay tax when you eventually withdraw money from an RRSP so its very important that the tax refund you get today also gets saved. Otherwise you essentially get hit twice, once now when you spend the refund, and once again in the future when you pay tax on withdrawal.
This can cost you $100,000's!
Using our example from above, spending the tax return will decrease the cumulative RRSP withdrawals by $291,473! Ouch!
RRSP – Spending Tax Return
Annual $3,517 Post-Tax Contribution, Tax Return Is Spent
$691,572 Cumulative Withdrawals (After-Tax)
[weblator_chart id="28″]
Join over 250,000 people reading PlanEasy.ca each year. New blog posts weekly!
Tax planning, benefit optimization, budgeting, family planning, retirement planning and more...
Join over 250,000 people reading PlanEasy.ca each year. New blog posts weekly!
Tax planning, benefit optimization, budgeting, family planning, retirement planning and more...