The Biggest Risk In Retirement Is… Sequence Of Returns Risk
There are a lot of risks that we face in retirement (including early retirement). When you enter retirement, there are lots of changes happening all at once. Along with big personal changes, and lifestyle changes, there are also big changes happening to your finances. After you enter retirement one of the biggest financial changes you'll face is a shift from a regular income source (eg. employment) to an income source based entirely on your own savings and pension. Making this switch can create a few risks, one of those risks is the risk of running out of money.
One of the biggest risks facing retirees is something called sequence of returns risk. When a good portion of your retirement income comes from your own savings this is the biggest risk a retiree can face. But what does "sequence of returns risk" mean exactly?
Before we talk about sequence of returns risk it's important to understand that most retirement plans are based on an assumed (and constant) investment return each year. This investment return is usually assumed to happen in a straight line with the same percentage return each year. An assumed return of return of 5% would be 5% per year starting on the day you retire, but in reality your investment return is going to fluctuate from year to year, and this is where the risk comes from.
Over the short-term you will probably see your investment return fluctuate greatly from year to year. Instead of seeing investment returns of +5%, +5%, +5%, +5%, +5%, you might see +20%, +2%, -10%, +15%, +1%. In this case the average return is still +5%, but there were some huge swings from year to year. "Sequence of returns risk" refers to this sequence, the actual investment returns you see year after year.
The big risk for retirees happens when the sequence is negative for a few years in a row. Even if average investment returns recover over the long-term, that short period of negative returns can have a devastating effect on a retiree's portfolio.
Sequence of Returns Risk: An Example
The big risk for retirees is when they need to make withdrawals to support their annual spending while their investment portfolio has experienced a significant decline. Imagine withdrawing $40,000 after your portfolio has dropped 50%, that's equal to an $80,000 withdrawal prior to the decline!
A basic retirement plan might assume an investment return of +5% per year along with an annual withdrawal of $40,000 per year for spending. With these rosy assumptions we end with a portfolio slightly above where we started after 10-years.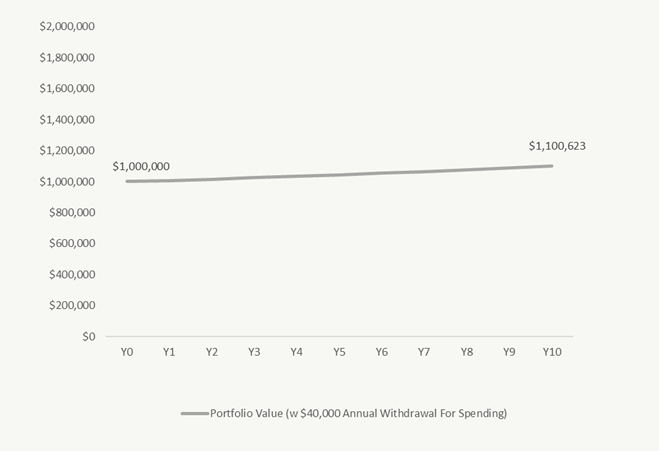 But imagine there is a large down-turn followed by a quick recovery during that 10-year period. In this case a new retiree might see their portfolio drop by a significant amount over just a few years only to recover a few years later.
The average return over 10-years might be exactly the same as the 5% assumption, but the sequence of those returns has varied widely from year to year. This situation is made worse by the fact that our retiree needs to draw on their portfolio each year to support their annual spending. Withdrawals made during the bad years have a big impact later on when investment returns finally recover.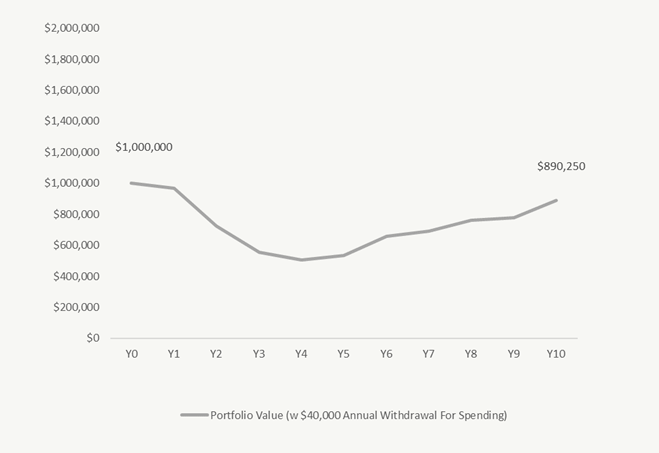 The net result is that they are over $210,000 below their plan after 10-years. This is sequence of returns risk. Even though the average return is exactly the same as the 5% assumption the final portfolio value ends up quite a bit lower due to withdrawals happening during years when investment returns were very negative.
Modeling Sequence of Returns Risk:
One way to check the strength of a retirement plan is to model it against actual investment returns. This gives us a better sense of how the plan performs with different sequences of returns.
We can use historical investment returns to model the portfolio and withdrawals. We can see what would happen if retirement would have started in 1919 vs 1949 vs 1979.

In fact, we can do this for every year and see how successful our plan is. We can use actual investment returns and actual inflation to see how our portfolio increases (or decreases) and how our withdrawals change with inflation.

Early Retirees Face Even More Risk:
Early retirees face even more risk when it comes to sequence of returns because they are typically drawing a much larger percentage of their portfolio in early retirement. Before government retirement benefits like CPP and OAS begin an early retiree can easily be withdrawing 5-7% of their portfolio annually.
Once CPP and OAS begin between age 60-70 this withdrawal rate usually drops significantly. The big risk for an early retiree is that during those early retirement years their investment returns will be extremely important. A bad sequence of investment returns, combined with a 5-7% withdrawal rate, could be very damaging to their long-term plan.
Ways To Mitigate Sequence of Returns Risk:
If you're concerned about sequence of returns risk there are a few ways to mitigate this risk in retirement.
Cut back on variable spending during bad investment years
Take CPP and OAS early to reduce portfolio withdrawals during bad investment years
Target a more conservative portfolio
Set up a 5-year GIC ladder to draw from during bad investment years
Use a variable/tactical asset allocation. Draw on bonds/GICs during bad years and leave equity investments untouched. The result is that the overall asset allocation will shift to become more aggressive over years but this can be shifted back to become more conservative after equities have recovered in value.
Join over 250,000 people reading PlanEasy.ca each year. New blog posts weekly!
Tax planning, benefit optimization, budgeting, family planning, retirement planning and more...
Join over 250,000 people reading PlanEasy.ca each year. New blog posts weekly!
Tax planning, benefit optimization, budgeting, family planning, retirement planning and more...