18 Great Financial Goals For The New Year
Here we go again! It's time for the New Year! It's time for New Year's resolutions and time for new beginnings (and it's time to recover from all that holiday spending!)
After indulging in the gifts and the treats, a New Year's resolution is the perfect time to change course, it's the perfect time to focus on your personal finances, and there are lots of great financial goals to choose from!
Did you know that about half of us make a New Year's resolution each year? While dieting, exercise, and eating right always seem to top the list, this year you should consider making a New Year's resolution that is focused on your personal finances.
A New Year's resolution is the perfect way to make a positive change in your life and it's a great time to make a change to your personal finances too. The new year is the perfect time to reflect on your personal finance routine, take stock of your situation, and choose a great financial goal to focus on in the new year.
Why wait? Start your New Year's resolution now. Don't put all that pressure on New Year's, start your resolution today!
If you're looking for some inspiration we've got 18 great financial goals for your New Year's resolution.
And if you're really having trouble deciding then let us pick a New Year's resolution for you. Take a snapshot of the GIF below to choose a New Year's resolution.
Hit Print Screen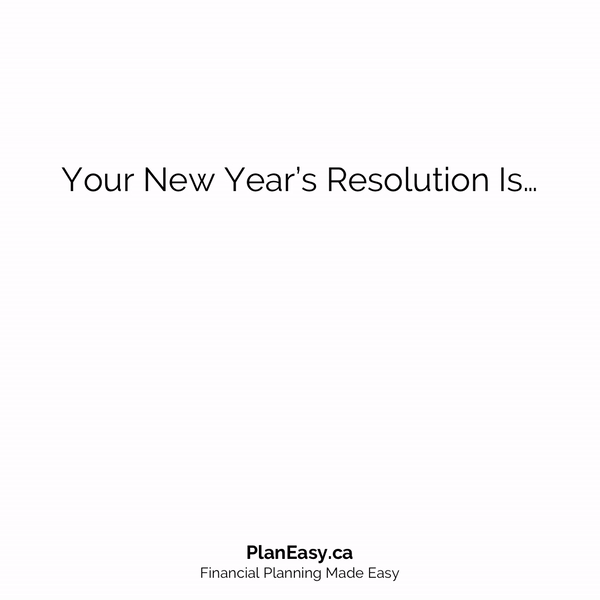 #1 Track Your Spending
One of the most eye-opening experiences in personal finance is when you track your spending. It doesn't even take long. Even just a few months of spend tracking is all it takes.
Looking back over a few months of detailed spending data can be amazing. Most people are amazed at what they see. They're blown away by categories that they thought were small that just seem to add up to enormous amounts.  They're amazed when they see where their money actually goes.
Tracking your spending doesn't have to be hard either. Use an app like Mint, a program like You Need A Budget, or set up your own free spend tracker using our Google Forms and Google Sheets template.
#2 Plan For Infrequent Expenses
Sometimes $h!% happens and an unexpected bill pops up. Planning for infrequent expenses like car repairs, home repairs, and car upgrades is an important part of a solid budget. Plan ahead for infrequent expenses by adding up how much you spend on car repairs, home repairs, insurance etc each year and start putting a bit aside each month into a savings account.
Having a few "funds" for infrequent expenses is an important part of every personal finance routine. Here's why…
#3 Create An Emergency Fund
Emergency funds are a wonderful thing. They provide a lot of peace of mind. Once you have a solid emergency fund you feel more at ease, you feel more secure, you just feel better. Make a resolution to have a fully funded emergency fund by the end of the year. If you're a renter you should target at least 3-months of expenses. If you're a home owner you need a bit more, at least 6-months of expenses saved up.
#4 Make A Debt Payoff Plan
If you have debt then you need to create a debt payoff plan! Mapping a path towards debt payoff is very satisfying. It's encouraging to see exactly how you can become debt free in the future. Use our free debt payoff calculator to make your debt payoff plan. Enter you debts, add your minimum payments, then add extra monthly payments or big lump-sum payments to see how fast you can pay off your debt (and how much interest you could save!)
#5 Start Investing
Investing is more than just picking the right stock or ETF, it's a habit. It's also something you need to experience to really be comfortable with. That's why starting to invest early, even if it's just $25 per week, is a good idea. It will help you learn the basics. Start with a robo-advisor or create a DIY portfolio of ETFs. There are many great robo-advisors with no minimums and if you want to do it yourself there are DIY brokerage accounts that offers FREE ETF and share purchases. This a great place to start when you're making weekly/monthly contributions. And, if you need some inspiration, Canada Couch Potato has some great model portfolio's.
#6 Set A Financial Goal
One of the most powerful ways to improve your personal finances is to set a goal, any goal. You might need to spend a bit of time thinking about what your goals are. Once you know what your goals are you can start working towards them. Goals give you a "WHY". If you don't know WHY you're budgeting/saving/investing then it's going to be much harder to stick to your routine. So if you're having trouble sticking to your financial routine, maybe you just need to set a good goal first.
#7 Create A Plan
Sometimes you're doing everything right, you know your goals, but you still feel insecure. If this is you then you need to create a financial plan. A plan is like a map, it helps you chart a course from where you are today to where you want to be in the future. Mapping out your financial plan year by year will also help you see exactly how well you're doing relative to your goals.
Creating a financial plan can also help find new opportunities to reduce taxes, increase government benefits, and save smarter. A financial plan can help identify pitfalls in your financial plan and help you avoid them.
#8 Live Below Your Means
Long term financial success usually involves living slightly below your means. Exactly what this means varies from person to person, but it can be a fantastic goal when you're used to spending the majority of your paychecks. Aim for something small at first, like setting aside 5% of your paycheck and then increase it slightly each month as you get used to your new routine.
Saving even just $10 more per day can have a huge effect over time.
#9 Save 20%+ of Your Income
Saving and investing is an important goal, but how much is enough? The general advice is to save 20% of your net income each month and this is a great financial goal to strive for.
This 20% usually includes both savings and short-term debt payments (assuming you're not adding new money to your debt). Saving 20% of your income is a sure-fire way to reach your financial goals. If you want to hit some aggressive financial goals, like pay off your mortgage early, reach financial independence, or retire early, then you'll need to increase your savings rate even further. Start with saving 30% of your income and then try to increase it to 40-50%.
#10 Create Multiple Income Steams
Financial security comes in many forms and one way to improve your financial security is to have multiple income steams. There are lots of ways to create multiple income streams. Some are easier than others, some are worth more than others, which one you focus on will depend on your goals/time.
#11 Start Working Towards Financial Independence
Make a resolution to target financial independence. Financial independence is this idea that if you have enough money in savings/investments you no longer need to work for money. Your expenses are covered and you're free to choose when and where you work. It takes time to reach financial independence, but you can create your FI target and start working towards it.
Beware the "boring middle" when working towards financial independence.
#12 Save For A Down Payment
Buying a house is an exciting goal, but before it happens you need to save up for a down payment first. Make your resolution to save up for a down payment this year. Figure out how much "house" you want to buy and then figure out how much down payment you want to target. Ideally you have 20% of the purchase price for your down payment but somewhere between 5% and 20% is probably more realistic.
#13 Stick To Your Budget
Make a resolution to stick to your budget this year. Don't focus too much on your month to month budget, its not realistic to hit your budget every single month but aim to hit your budget over 3/6/12 months. Some months will be high, some low, as long as your average spending is below budget you're good!
#14 Max Out Your TFSA
The TFSA is an amazing account. To use it to its fullest potential you need to max it out every year and you need to invest those contributions for the long term. If you start early you can have a $1M in your TFSA by the time you hit retirement. That's $1M tax free!
#15 Max Out Your RRSP
If you're high income, have kids, or have already maxed out your TFSA, then maxing out your RRSP is a great financial goal. To max out your RRSP you need to save 18% of your income each year (less if you have a high income or have a pension). Very few people max out their RRSP each year. Be one of the few and make it your resolution for next year.
See why an RRSP contribution may be better than a TFSA contribution and in certain situations could help you save $100,000+
#16 Save For Kids Education
Post-secondary education is expensive, make a financial goal to save for your kid's education. There is an added benefit if you use an RESP. If you contribute $2,500 per child, you'll get the max $500 grant from the government (you can double this to a $5,000 contribution to get a $1,000 of grant if you are making catch up contributions).
Make a resolution to max out the grant this year but also make sure to shift the asset allocation in your RESP each year as your children get older. The last thing  you want in an RESP is a lot of equity investments dropping in value directly before children start post-secondary.
And, for those who have not taken advantage of all the RESP grants, consider making RESP catch up contributions this year.
#17 Improve Your Financial Security
Feeling anxious about your personal finances is a terrible feeling. You can add some financial security and decrease your anxiety this year by focusing on a few things. First and foremost is creating a fully funded emergency fund. This is one of the best/easiest ways to create some financial security. But once you have your e-fund in place you can step up your financial security with life insurance and disability insurance. One of the biggest assets you have is your ability to earn an income. Life and disability insurance help protect your family against a sudden loss in income. Having the right insurance in place can increase your financial security and reduce your anxiety.
#18 Plan For Retirement
Retirement seems scary but it doesn't have to be. Make a plan for your retirement! Once you have a plan in place you'll see that retirement isn't that scary. First, decide how much you need to spend each year. Then look at what income sources you can expect. Don't forget to include all the different income sources you'll have in retirement. There is CPP, OAS, potentially GIS, government benefits like HST/GST credit, pensions, RRSPs, TFSAs, non-registered savings etc etc.
Join over 250,000 people reading PlanEasy.ca each year. New blog posts weekly!
Tax planning, benefit optimization, budgeting, family planning, retirement planning and more...
Join over 250,000 people reading PlanEasy.ca each year. New blog posts weekly!
Tax planning, benefit optimization, budgeting, family planning, retirement planning and more...