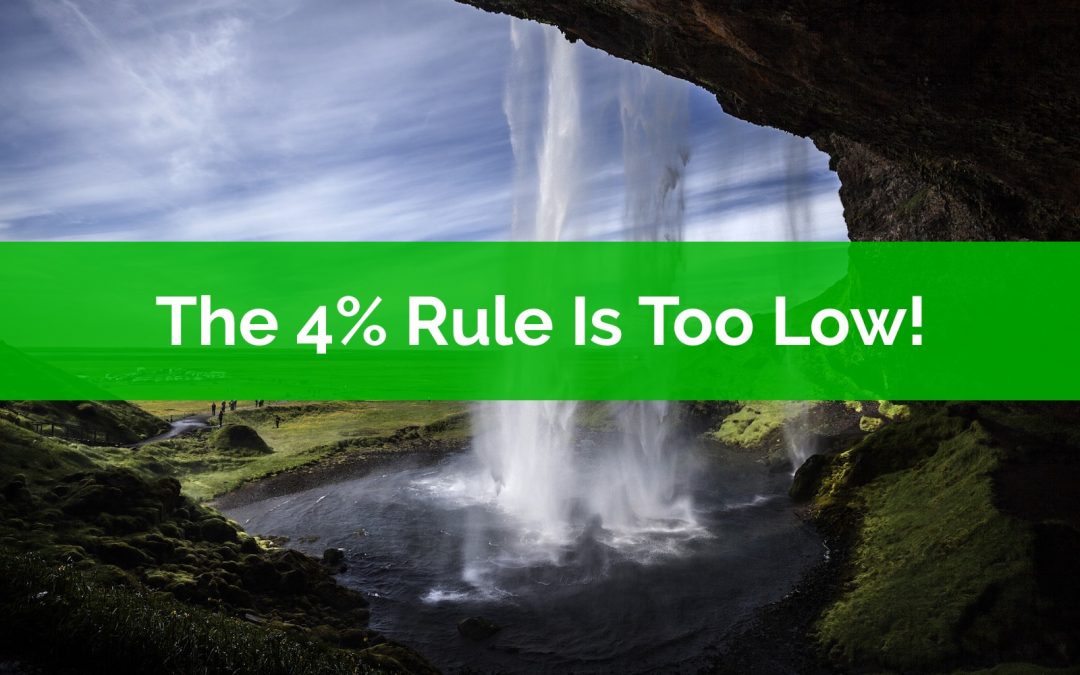 The "4% Rule" is a common rule in personal finance. It's a basic rule of thumb that suggests you can withdraw 4% from a well diversified portfolio and have a reasonably high chance of having money left over in 30-years.
Like any personal finance rule, it's a bit of an oversimplification of a rule that contains many nuances. This rule is based on a famous study called "The Trinity Study". That study was built on top of the work of Bill Bengen who used historical stock/bond/inflation rates to determine that a retiree can withdraw 4% of their initial portfolio value, adjusted for inflation each year, and have a reasonably high chance of success.
This is an amazing piece of work and has enabled many individuals to formulate their own retirement plans. But for Canadians it might be too low & too pessimistic.
When using the 4% rule it's important to remember that "success" in the Trinity Study and in Bengen's analysis means that there is at least $1 left after 30-years. It does not mean that investment principal will be left untouched. It's very possible that a retiree could end up with just $1 in their account after 30-years and that would be considered success.
The nice thing about the 4% rule is that it's pretty easy to find your target "retirement number". All you have to do is estimate your annual retirement spending (including tax!) and multiplying by 25. If I wanted to retire with $50k/year before tax, according to the 4 percent rule, I would need $1,250,000 (25x $50,000/year)
The issue with the 4% withdrawal rule is that for Canadians it's too low, it's too pessimistic, and it leads people to forget about other types of retirement income and perhaps save too much. If you're retiring in your 50's to early 60's then you could start withdrawing at a higher rate and still be successful.
(Disclaimer: Everyone's situation is different. What works for one retiree may not work for another. Make sure to review your retirement plans with an advice-only financial planner to ensure your plan is successful)
Retirees in their 50's or early 60's will be eligible for two large government benefits just a few years after retirement. CPP and OAS can easily provide 25%+ of a retirees annual spending. Ignoring these benefits will mean you might save too much! Aiming for a portfolio that is 25x your annual spending is overkill because it doesn't take into account these large government benefits.
For many retirees in their 50's and early 60's they can withdrawal MORE than 4% from their portfolio at the beginning of retirement. This is because a few years down the road they'll be eligible for CPP and OAS. Once these benefits kick in their withdrawal rate will be much, much lower.
But, the earlier you retire the closer to the 4 percent withdrawal rate you need to be. Retiring early means you need to have closer to 25x your annual spending to bridge the gap between early retirement and government benefits. Bridging a 5-year gap between age 55, when retirement starts, and age 60, the earliest CPP can begin, is much different than retiring at 45 and waiting 15+ years for CPP.
Not only does retiring early create a larger gap between your retirement date and CPP/OAS but there are other risks too. One of the biggest risks is a change to OAS.
OAS is funded through government revenue. This means it's not guaranteed the same way CPP is guaranteed. In fact, we've already seen OAS change twice in the last decade. OAS briefly went from age 65 to age 67 and then back again. This didn't affect people who were already 55 but for those 55 and under they saw their earliest OAS date pushed later and later.
Still, for anyone in their early 50's to early 60's it's reasonable to assume CPP and OAS will be available in its current form (but nothing is 100% guaranteed!)
Let's look at two scenarios, one where retirement starts at age 55 and the initial withdrawal rate is above the "4% safe withdrawal rate", and a second scenario where retirement starts at age 45 with the same withdrawal rate. For each scenario we'll look at the success rate (how likely it is that we won't run out of money before age 100).